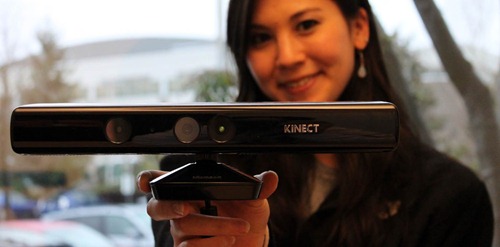 Exciting times: version 1.5 of Kinect for Windows SDK and Runtime is now available! If you're doing any development that uses the Kinect sensor for projects, you'll want to make sure you have the latest and greatest. To read the official announcement, head over to the Kinect for Windows Blog > Kinect for Windows: SDK and Runtime version 1.5 Released post.
Here are some of the new features to help developers build cool stuff:
Kinect Studio, our new tool which allows developers to record and play back Kinect data, dramatically shortening and simplifying the development lifecycle of a Kinect application. Now a developer writing a Kinect for Windows application can record clips of users in the application's target environment and then replay those clips at a later time for testing and further development.
A set of Human Interface Guidelines (HIG) to guide developers on best practices for the creation of Natural User Interfaces using Kinect.
The Face Tracking SDK, which provides a real-time 3D mesh of facial features—tracking the head position, location of eyebrows, shape of the mouth, etc.
Significant sample code additions and improvements. There are many new samples in both C++ and C#, plus a "Basics" series of samples with language coverage in C++, C#, and Visual Basic.
SDK documentation improvements, including new resources as well as migration of documentation to MSDN for easier discoverability and real-time updates.
Be sure to check out the official announcement for all the new goodies!
Check out these other posts:
Still want to compete in the Imagine Cup for fame, fortune and a trip to Sydney? (The opportunity to change the world is assumed

) You might have missed the deadline for the Software and Game Design competition, but there are still FOUR Imagine Cup Challenges that you can enter! For Round 1, the barriers to entry for these challenges are low, so you have time to submit something awesome! You'll be submitting a project plan (not a project) or taking a quiz. Which challenge is for you?
Go beyond games. Build a prototype using Natural User Interfaces to change how we interact with technology. Submit your Project Plan by 23:59 GMT on March 6th. Teams that move onto Round 2 will receive a free Kinect for Windows sensor! Get started building your solution today!
Test your Team's ability to design and build a Metro style app that takes advantage of Windows 8 features and design principles to deliver an experience that solves one of the world's toughest problems and wows those across the globe. For Round 1 you need to create your team and pass the Round 1 quiz with a score of 50% or higher. The upcoming quizzes are February 28th and March 6th. Sign up and get ready to take your first quiz!
Be a contributor to the "next big thing" in the technology industry and solve one of the world's toughest problems at the same time. Get your smartest friends together, or work on your own and show how one idea can impact the lives of people around the world! Submit your Application Summary & SketchFlow prototype by 23:59 GMT on March 13th. Teams that move onto Round 2 will receive a 180-day Azure pass! Get started on your web application today!
Take your ideas mobile! Create a Windows Phone app that helps make the world a better place. Make your app available to millions by listing in the Marketplace and make a difference right away. Submit your Application Summary & SketchFlow prototype by 23:59 GMT on March 13th. Get started on your app today!
Need a Little Inspiration? Not sure which one of the world's toughest problems you want to solve? You can choose to address a global problem or something in your local community that inspires you. You can find some additional motivation through one of the eight United Nations Millennium Development Goals. While these MDGs are not required to be in your solution, the Imagine Cup offers these ambitious challenges as a guide to help you promote change in your local community or around the world. You find additional inspiration from the great ideas in Nokia's IdeasProject.
Get Connected. Follow the Imagine Cup Blog to gain access to new training and resources to help you with your project, read about past Imagine Cup competitors' successes, and get tips from your Captain.
Check out these other posts:
Kinect School Sweepstakes(Jan 23 – May 14)
Energize your classroom and get students moving! Enter for your chance to win a Kinect™ for Xbox 360© prize package for your school!
If you work for a US educational institution, you and all your co-workers are eligible to enter! You can enter once per prize period. See the sweepstakes site for details and official rules.
Four Grand Prizes!
A Prize Package consisting of the following items:
One (1) Xbox 360 Kinect 250GB Bundle. Approximate Retail Value (ARV) $399.00.

Two (2) Kinect Video Games. Approximate Retail Value (ARV) $99.98.

Games will be selected from the following titles: Dance Central, Body & Brain, or Sesame Street.
Sweepstakes entry runs January 23, 2012 through May 14, 2012. The Entry Period will consist of four separate prize periods. One (1) entry per person, per prize period.
| | | |
| --- | --- | --- |
| Prize Period | Entry Period | Drawing Date |
| 1 | January 23 to February 14 | February 15, noon Pacific Time |
| 2 | February 15 to March 14 | March 15, noon Pacific Time |
| 3 | March 15 to April 14 | April 15, noon Pacific Time |
| 4 | April 15 to May 14 | May 15, noon Pacific Time |
Download Official Rules (251KB PDF)
Get Adobe Acrobat Reader
Check out these other posts: